Latest News
18 June 2020
Haldatec often works with clients who require bespoke lab sample conditioning equipment. Our experienced team enjoys a project that takes a challenging problem and then builds a working solution at high specifications.
Our customer initially contacted us to discuss the problems they were having in validating the results from their online RVP analyser. They wanted to be able to validate the results from their online tool. We were asked to design a system that could reproduce the online sample conditioning system so that the analysis was comparable. The client was also facing the ongoing challenges of small available sample volumes, as well as space limitations for install.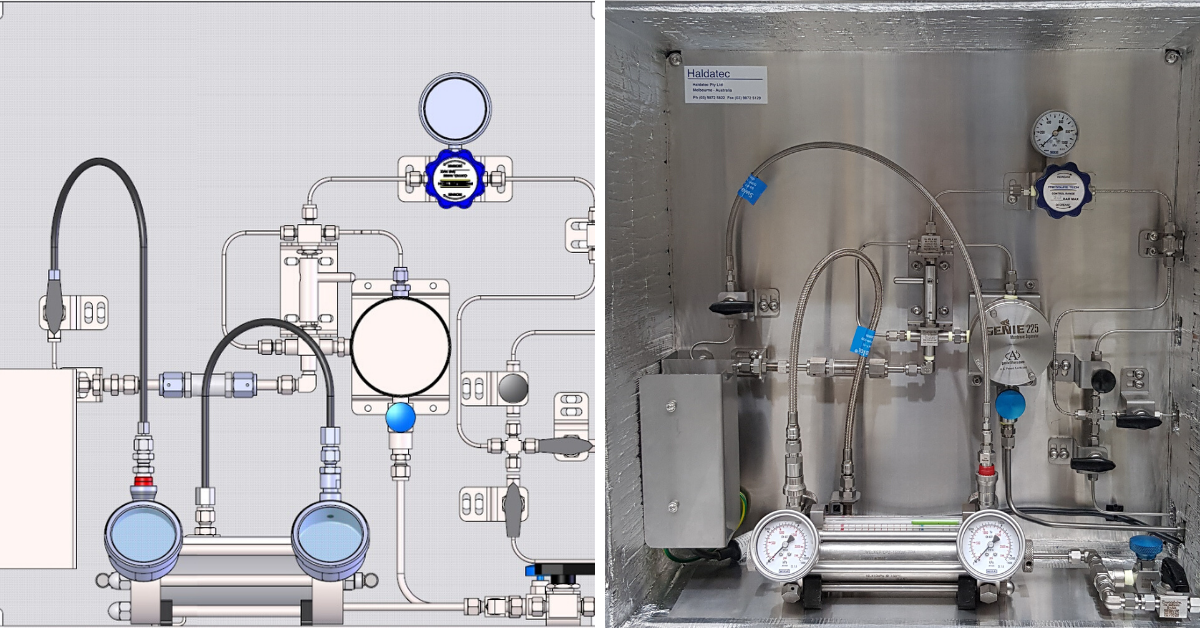 To investigate the problem at hand, we went on site and reviewed their existing online sample conditioning system. We collaborated with the client to come up with a suitable design and over the course of 3 months, created this small lab scale sample conditioning panel for RVP analyser within the parameters they had.
The end users was particularly satisfied in the final outcome.
Internal volume was required to be as small as possible due to the small manual sample size and our client requested the ability to bypass the membrane filter if required.
The solution involved custom ganged 3-way valve switching, plumbed in 1/8" 316SS tube and installed in an insulated sample cabinet with space heater. It was designed to meet the client's sample standard of ASTM D6377. The design will give the operators confidence that the online RVP analyser results are validated. It will also provide a handy backup should the online system need maintenance/repair.
Do you need customised sample conditioning? Contact Haldatec today to discuss your bespoke requirements.
Haldatec has been serving the Oil Gas and related industries in Australia, Pakistan, Singapore, PNG, India and New Zealand since 1990. Our house product label EnPro has been developed to meet customer needs. For more information contact us today on +61 3 9872 5822 or submit an enquiry.